Cat 2 or Dog 2?
Look out Cabo San Lucas...
Storm2k.org
Forecasters saying that Kiko could become a Category 2 hurricane by next Tuesday.
TROPICAL STORM KIKO INTERMEDIATE ADVISORY NUMBER 16A
NWS TPC/NATIONAL HURRICANE CENTER MIAMI FL EP152007
500 PM PDT THU OCT 18 2007

...KIKO NEARLY STATIONARY...

FORECAST TO STRENGTHEN...



ABOVE NORMAL TIDES...ACCOMPANIED BY LARGE AND DANGEROUS BATTERING

WAVES...ARE POSSIBLE IN THE WARNING AREA IN REGIONS OF ONSHORE

FLOW.





KIKO IS EXPECTED TO PRODUCE TOTAL RAINFALL ACCUMULATIONS OF 4 TO 7

INCHES OVER SOUTHWESTERN MEXICO WITH POSSIBLE ISOLATED MAXIMUM

AMOUNTS OF 10 INCHES. LIFE THREATENING FLASH FLOODS AND MUDSLIDES

ARE POSSIBLE OVER MOUNTAINOUS TERRAIN.
* * * *
Check out this in the daytime, might be a
good sat link
.
And here's one of those
"I can't see your face in cyberspace"
moments...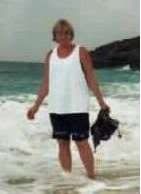 This was me in
Hurricane Jose
in St. Martin about 8 years ago.
Yes, it's been that long. We had to get off the beach early that day before being barracaded into the beach club under martial law. And before a coup de foudre (being struck by lightning).
Suzzzz might know this beach,
< style="text-align: right;">Next time I'm taking
the puppy-wuppies.
BooBoo and

Mishka RosieBear